Recognition Herbicide - Broadleaf and Sedge Weed Control for Warm Season Turf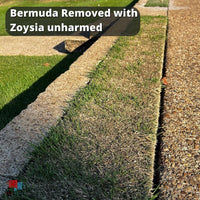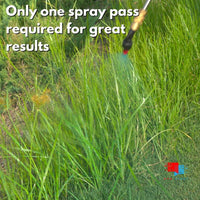 Recognition herbicide controls more than 40 weeds to include all major sedges and kyllingas along with broadleaf weeds like clover and dollarweed. Recognition provides unmatched safety to Zoysiagrass, St. Augustinegrass and Kikuyugrass. It does this using metcamifen which is a proprietary safener allowing for broadcast applications.
Featured Benefits
Controls more than 40 varieties of weeds
Great for southern grasses such as Bermuda, Zoysia, and St. Augustine without fear of damaging turf
Non-Ionic surfactant is recommended with Recognition
Measuring spoon included for easy mixing
Active ingredients are Trifloxysulfuron-sodium1 (20.4%)
Covers up to 65,000 square feet
Recognition is a post-emergent herbicide that comes in the form of wettable granules. This means that you mix this weed killer with water to create a liquid spray. It is formulated to control sedges and broadleaf weeds.
Recognition herbicide's party trick is the inclusion of a proprietary safener called metcamifen which allows broadcast applications on sensitive grasses like St. Augustine and Zoysiagrass. The metcamifen in Recognition herbicide allows you to safely control Bermuda grass in St. Augustine when mixed with Fusilade II at higher rates.
Save time and money by purchasing our Recognition and Fusilade II Herbicide Kit. See the results from this kit here.
Results in 1 - 4 weeks after application depending on maturity of weed being targeted. Recognition is rainfast 3 hours after application.
Package Includes: One 1.95 oz bottle
Storage: Store in a cool dry place away from direct sunlight. The product will store for 2 years under warehouse conditions.
To safely control Bermudagrass in St. Augustine and Zoysiagrass lawns, combine Recognition herbicide with Fusilade 2.
Weeds controlled (but not limited to) include the following:
Annual Sedge
Bentgrass
Black Medic
Broadleaf signalgrass
Cat's ear Dandelion
Carolina Geranium
Carpetweed
Clover
Cock's-Comb Kyllinga
Common Chickweed
Corn Speedwell
Creeping Indigo
Dandelion
Dichondra
English Lawn Daisy
Glove Sedge
Green Kyllinga
Ground Ivy
Hairy Buttercup
Henbit
Hop Clover
Khakiweed
Mellow
Lawn Burweed
Lawn Pennywort
Little Barley
Mouseear Chickweed
Narrowleaf Cudweed
Oxalis
Parsley Piert
Poa Annua
Poa Trivalis
Purple Nutsedge
Rescuegrass
Ryegrass
Spotted Spurge
Tall Fescue
Wild Garlic
Yellow Nutsedge
and more...
Recognition can be used on the following grass types:
Bermudagrass, Zoysiagrass, Buffalograss, St. Augustinegrass and Kikuyugrass
Labels:
Recognition Herbicide Product Label
Recognition Mixing Rates for Removing Bermuda in Zoysiagrass
Recognition Mixing Rates for Removing Bermuda in St. Augustinegrass
SDS: Recognition Herbicide Safety Data Sheet
Application: This is a professional formulation and should be applied from Battery-powered 4 gallon sprayer with TeeJet foliar spray tip. This herbicide is not to be applied via a hose-end sprayer.
When to Apply: Do not apply if temperatures are over 95F and when winds exceed 10 mph.
Coverage:
43560 - 56,200 square feet depending on application rate
Application rates:
Bermudagrass removal in St. Augustine or Zoysiagrass .03 oz per 1000 square feet when mixed with Fusilade II. This is the equivalent of 1 level spoon. (1.29 oz per acre)
Broadleaf and Sedge control .03 - .045 oz per 1000 square feet (1.29 - 1.95 oz per acre).
Dilute with 1 gallon of water per 1000 square feet.
Application tips:
Use a non-ionic surfactant with Recognition for best results. Non-ionic surfactant helps the herbicide stick to the weeds better.
For best results, do not mow 2 days before or 2 days after application. After treatment, do not transfer clippings to non-target areas.
Application sites:
For use in Golf Courses, Sod Farms, Highways, Right-of-Ways, and similar Non-Crop areas, Ornamental Turf-grass (Residential & Commercial), Parks, Cemeteries and Athletic Fields
Additional Notes:
Some products may not be registered for sale or use in all states or counties and/or may have state-specific use requirements. This information is for reference only. It is the responsibility of the user to verify the product is registered and appropriate for use in a given state. Please check with your local extension service to ensure registration status and proper use.
Which grass types is Recognition herbicide safe for?
Recognition is safe for Bermudagrass, Zoysiagrass, Buffalograss, St. Augustinegrass, and Kikuyugrass.
Does Recognition need to be watered in?
No. Recognition works via foliar uptake. Simply spray the weeds you're targeting and allow it to dry.
Can I apply granular fertilizer or Essential-G on the same day as Recognition?
Yes. We recommend that granular fertilizer and Essential-G be applied before Recognition.
Can I apply other liquids and Recognition on the same day?
How long does it take for weeds to die after spraying with Recognition?
It depends on the weed being targeted and temperature. Most weeds begin to yellow within 14 days of application and are dead by day 28.
Should I use surfactant with Recognition?
Yes. For best results we recommend using a surfactant with Recognition.
Are there temperature restrictions with this product?
No. We don't recommend spraying your lawn with Recognition when temperatures exceed 95F as temporary injury may occur.
How long should I wait before resuming mowing?
For best results do not mow 2 days before application and 2 days after. For example, if you plan to spray Recognition on Saturday, your last mow would be on Thursday. You would resume mowing on the following Tuesday.
How soon can I reapply Recognition?
We recommend that you wait 4 - 6 weeks between applications. Do not exceed 3 applications per calendar year.
PRICE INCLUDES SHIPPING
Shipping: United States Only.
Currently NOT shipping to:(AK, CA, WA, OR, ID, MT, SD, ND, WI, IA, MO, MN, WI, MI, WV, NY, CT, VT, NH, RI, MA, ME). For AZ and HI just a small shipping charge of $5.00 will be applied.
We can not ship to PO Boxes
Typically delivered in 4 - 7 business days.
Cancellations | Returns | Exchanges: All sales are final, no cancellations, returns, or exchanges