Acelepryn SC Insecticide - Liquid Grub and Armyworm Control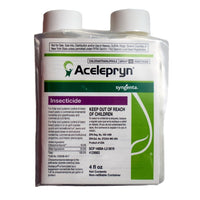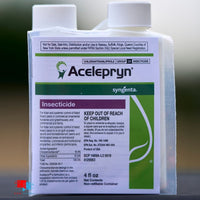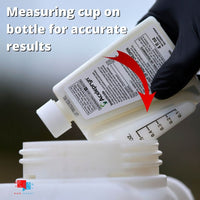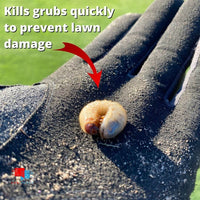 Acelepryn SC is a liquid insecticide that kills pests that damage your lawn. It provides exceptional insect control from a single application. Acelepryn targets several caterpillar species, grubs and annual bluegrass weevil larvae.
Featured Benefits
Eliminates insects that damage your lawn
Covers up to 22,200 square feet
Safe for use on residential and commercial grass
Does not harm pollinators and earthworms
Built in measuring cup for easier mixing
Safe for all grass types
Liquid Acelepryn SC is one of the safest insecticides in the industry. Initially it was only offered in quantities that are too big for residential lawns. Not anymore!
We're proud to offer the same product used by professionals in a 4 oz size that's more economical. Acelepryn SC is safe for people and pets when used as directed.

Acelepryn Eliminates:
Armyworms
White Grubs
Turf Caterpillars
Billbugs
Annual Bluegrass Weevils
European Crane Fly
Chinch Bugs
Spittle Bugs
and more...
Acelepryn SC uses chlorantraniliprole which provides excellent season-long grub and army worm control. All this from a single application in April or May. Acelepryn is more than outstanding grub control. That single application will also control several lawn pests that damage your turfgrass.
So why should you choose this insecticide over others?
Kills a broad range of lawn pests to protect your grass
Does not harm pollinators like bees and helpful invertebrates like earthworms
Environmentally conscious insecticide choice
Not sure which bug is eating your plants and lawn? Our list of common lawn pests with pictures will help you figure it out! If you prefer granular insecticide, take a look at Acelepryn G.
Active Ingredient: Chlorantraniliprole 18.4%
Package Includes: 1 - 4 oz bottle
Acelepryn SC can be used on all grass types, such as the following:
Cool Season Lawns - Kentucky Bluegrass, Turf Type Tall Fescue (all fescues), Ryegrass
Warm Season Lawns - Bermuda, St Augustine, Zoysia, Centipede, Bahia
Read the product label for guidance on the best Acelepryn SC application rate to use given the insects being targeted.
Label: Acelepryn SC Label
SDS: Acelepryn Safety Data Sheet
Application: Battery-powered 4 gallon sprayer with large droplet nozzle recommended.
When to Apply: As early as (April / May). Can be applied later in season with good results. Water in after application. Top dressing and aeration does not reduce product effectiveness.
Product is safe for warm and cool season lawns.
Application rates:
0.09 oz./1,000 sq. ft.covers 44,400 sq. ft.
0.18 oz./1,000 sq. ft. covers 22,200 sq. ft. (preferred rate)
0.28 oz./1,000 sq. ft. covers 14,285 sq. ft.
Does Acelepryn SC need to be watered in?
Yes. Apply 1/4" of water from irrigation or rainfall to move Acelepryn SC into the soil.
Can I apply fertilizer or Essential-G on the same day as Acelepryn SC?
Yes. We recommend that fertilizer and Essential-G be applied before Acelepryn SC.
Can I apply fungicide on the same day as Acelepryn SC?
Can I apply other liquids and Acelepryn SC on the same day?
PRICE INCLUDES SHIPPING
Shipping: United States Only.
Currently NOT shipping to: (AK,HI,NY). For AZ, CA, CO, WA, OR, ID, MT, NV, NM, UT just a small shipping charge of $3.00 will be applied.
We can not ship to PO Boxes
Typically delivered in 4 - 7 business days.
Cancellations | Returns | Exchanges: All sales are final, no cancellations, returns, or exchanges