Premium Organic Lawn Fertilizer and Biostimulant - 4-4-4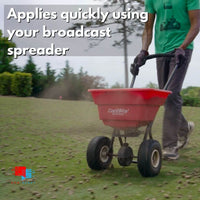 Looking for an organic lawn fertilizer combined with biostimulants to improve soil quality? Then have a look at the Mirimichi Green premium organic 4-4-4 fertilizer and biostimulant. This is a great option for anyone wanting to go completely organic with their fertilization program.

Why use Mirimichi Organic Fertilizer?
Easy to spread organic fertilizer
Slow release nitrogen that won't burn your lawn
Includes iron for a deeper green lawn
Humate to improve nutrient uptake
Includes beneficial fungi and bacteria to improve plant health
OMRI listed organic product
Mirimichi Organic fertilizer is an awesome alternative to Milorganite. Truly organic, better ingredients, and better value from a coverage standpoint.
Mirimichi Green 4-4-4 organic granular fertilizer combines humic acid and essential nutrients. You get NPK, calcium, and iron in a slow-release and easy-to-spread granule. Plants receive an organic blend of the macronutrients and biology needed to thrive.

Think of this as a blend of Essential-G and a complete organic fertilizer. Use it as an organic starter fertilizer or for general feeding all season. This product contains phosphorus to drive deeper roots. The beneficial bacteria and other biology improve nutrient uptake. This boosts your soil's ability to make use of the organic fertilizer and other products.
For best results, apply this organic fertilizer every 4 - 6 weeks when your grass is actively growing.
When To Apply Mirimichi Organic Fertilizer
Mirimichi Green 4-4-4 is meant to be the primary growth stimulator in the golf course lawn program so you want to use it when your turf is in growth mode. For cool season lawns, (Kentucky Bluegrass, Perennial Ryegrass and Turf Type Tall Fescue), this is going to be spring through fall.

For warm season lawns, (Bermuda, Zoysia, St Augustine, Centipede and Bahia), this is a great early spring through fall fertilizer. The formulation supports feeding your lawn and soil throughout the entire growing season.
Mirimichi Green 4-4-4 Organic Fertilizer Analysis: 4-4-4, 9% Ca, .2% Fe, 5% Humate, Beneficial bacteria and fungi
Packaging:
1 - 45 lb. bag
1 - 50 lb. bag
Organic 4-4-4 fertilizer can be used on all grass types, such as the following:
Cool Season Lawns - Kentucky Bluegrass, Turf Type Tall Fescue (all fescues), Ryegrass

Warm Season Lawns - Bermuda, St Augustine, Zoysia, Centipede, Bahia
Label: Mirimichi Organic Fertilizer Product Label
Coverage: 45 lb bag covers 7,200 square feet. 50 lb bag covers 8,000 square feet. Apply at 6.25 lbs per 1000 square feet of lawn area.
Water-in Instructions: Apply to a dry lawn and water into turf within 48 hours with 1/4" of irrigation or rainfall.
Sweep excess off sidewalks and driveways to avoid staining.
Storage: Store in dry conditions away from moisture. Can be stored for up to 2 years.
Spreader Settings
Scott's AccuGreen 1000 - 7.5
Scott's AccuGreen 3000 - 7.5
Scott's EasyGreen - 26
Scott's EdgeGuard DLX - 5
Scott's Elite - 5
Scott's EdgeGuard Mini - 5
Does Organic 4-4-4 Lawn Fertilizer need to be watered in?
Yes. Apply 1/4" of water from irrigation or rainfall to move Organic 4-4-4 Lawn Fertilizer into the soil.
Can I apply Essential-G on the same day as Organic 4-4-4 Lawn Fertilizer?
Yes. We recommend that Essential-G be applied before Organic 4-4-4 Lawn Fertilizer.
Can I apply liquids and Organic 4-4-4 Lawn Fertilizer on the same day?
Yes. We recommend applying granular products before liquids. So you would apply Organic 4-4-4 Lawn Fertilizer and other granulars, followed by your liquid products.
PRICE INCLUDES SHIPPING
Shipping: United States Only.
Currently NOT shipping to: (AK,HI). For AZ,CA,CO,WA,OR,ID,MT,NV,NM,UT,WY just a small shipping charge of $9.95/ea will be applied.
We can not ship to PO Boxes
Typically delivered in 4 - 7 business days.
Cancellations | Returns | Exchanges: All sales are final, no cancellations, returns, or exchanges