7-0-20 Stress Blend 3% Iron - Bio-Nite - Granular Lawn Fertilizer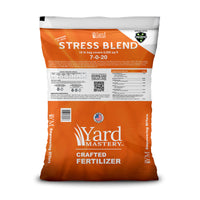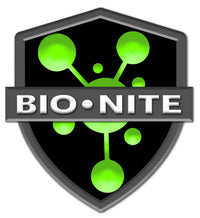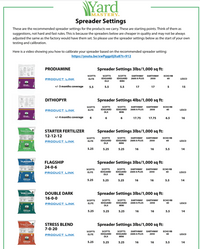 Temporarily, this product cannot be shipped to the following states: CA, OR, WA, ID, UT, NV.  Please use Stress 12-0-24 instead.

7-0-20 Stress Blend is a high potassium, low nitrogen lawn fertilizer to help your turf in and out of stressful situations. From freeze recovery to heat and drought stress survival situations, 7-0-20 Stress Blend is an excellent choice.

Featured Benefits
One 45 lb bag covers 15,000 sq ft
Analysis is 7-0-20:: N-P-K
Contains 3% Iron + Bio-Nite™
Great for a hearty pop of color and sweet relief for a stressed lawn
This fertilizer contains 7% nitrogen that's slow release so it will feed a lawn but not push excess growth. A sick lawn still needs feeding and slow-release nitrogen is the healthy way to go. You will also find 20% potash in each bag of fertilizer. Potash helps with water uptake and retention. Think about when you're sick: you want to stay hydrated first and foremost and it's the same for the lawn.
7-0-20 also has a stack of micronutrients lawns need including magnesium, boron, copper, manganese, molybdenum, and zinc.
For warm-season turf, this is a great early spring app as your lawn is waking up slowly. Warm-season lawns always seem to wake slowly and it's not a good idea to bang them with too much nitrogen when they are awakening from winter slumber. Apply again in the fall as the lawn is heading into the winter.

For cool-season turf, this is your go-to late spring and summer fertilizer, hands down. Combine this with a shot of Hydretain and you will have a much better summer for sure.
All-Natural Bio-Nite™ in Every Bag!
Bio-Nite is a bio-solid filler we add to every bag of fertilizer. Bio-Nite is the same thing as Milorganite, but instead of being sourced in Milwaukee, it comes from South Florida. The results were so impressive that we wasted no time getting into the hands of our customers. Is also what delivers the smell of success in every bag. That smell tells you that the included Bio-Nite is feeding microbes in the soil every time you apply.
7-0-20 fertilizer can be used on all grass types, such as the following:
Cool Season Lawns - Kentucky Bluegrass, Turf Type Tall Fescue (all fescues), Ryegrass
Warm Season Lawns - Bermuda, St Augustine, Zoysia, Centipede, Bahia
Label: 7-0-20 PDF Label
Spreader Settings: Granular Fertilizer Spreader Settings
Package Includes: 1 - 45 lb. bag
Coverage: 45 lb bag covers 15,000 square feet. Apply at 3 lbs per 1000 square feet of lawn area.
Water-in Instructions: Apply to a dry lawn and water into turf within 48 hours with 1/4" of irrigation or rainfall.
Sweep excess off sidewalks and driveways to avoid staining.
Storage: Store in dry conditions away from moisture. Can be stored for up to 2 years.
Does 7-0-20 need to be watered in?
Yes. Apply 1/4" of water from irrigation or rainfall to move the fertilizer into the soil.
Can I apply Essential-G on the same day as 7-0-20 ?
Yes. We recommend that Essential-G be applied before 7-0-20.
Can I apply liquids and 7-0-20 on the same day?
Yes. We recommend applying granular products before liquids. So you would apply 7-0-20 and other granulars, followed by your liquid products.
Temporarily, this product cannot be shipped to the following states: CA, OR, WA, ID, UT, NV. Please use Stress 12-0-24 instead.
PRICE INCLUDES SHIPPING
Shipping: United States Only.
Currently NOT shipping to:(AK,HI). For AZ,CO,MT,NM,UT just a small shipping charge of $9.95/ea will be applied.
We can not ship to PO Boxes
Typically delivered in 4 - 7 business days.
Cancellations | Returns | Exchanges: All sales are final, no cancellations, returns, or exchanges