Mirimichi Green Pest Control - Non-Toxic Pest Control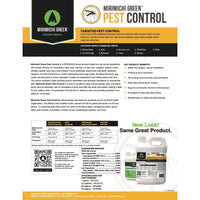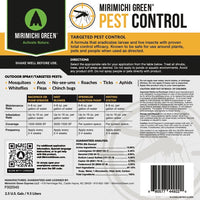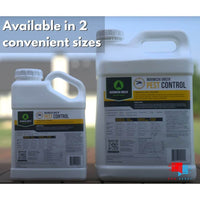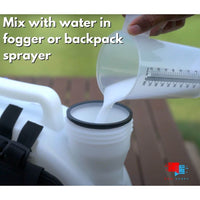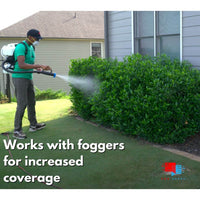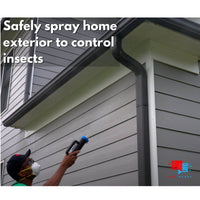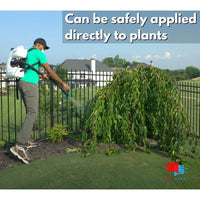 Mirimichi Green Pest Control is a non-toxic insecticide. It safely eradicates larvae and live insects with excellent effectiveness. It is safe for use around lawns, plants, pets and people when used as directed.
Planning for a weekend BBQ or pool party? This non-toxic pest control is a great way to keep mosquitos and other irritating bugs away from you and your guests. You can immediately re-enter the treated area after it dries.
Featured Benefits
Made from organic, natural ingredients
Product is not a neurotoxin
No temperature restrictions
OK to spray around people, pets and plants
Kills pests and larvae on contact
Bugs do not become immune to this product
Immediate re-entry after drying
Rainfall does not affect the effectiveness
Pleasant citrus smell
Pests Controlled
Mosquitoes
Spiders
Chiggers (Berry Bugs)
Japanese Beetles
Whiteflies
Ants
Fleas
No-see-ums
Chinch bugs
Roaches
Ticks
Aphids
and more...
We can't recommend this one enough. Unlike traditional insecticides, Mirimichi pest control also repels targeted insects for up to 4 weeks. Because it's naturally formulated, this insecticide smells great like citrus and is safe to spray around people and pets.
Mirimichi Green Pest Control is a FIFRA25(b) Exempt product made from all-natural ingredients with proven efficacy on mosquitoes, fleas, ants, roaches, no-see-ums, chiggers, spiders, mites, whitefly, aphids, plus many more insects. It is an adulticide, pheromone interrupter, deterrent, repellent, and kills the larvae on contact interrupting future egg cycles.
By killing the larvae, egg cycles are disrupted so future outbreaks of pests are eradicated in the treated areas over time. The carbon ingredient helps facilitate ground penetration and activates ingredients to implode the pest.
Mirimichi Green Pest Control is known to be safe to spray around people, pets, and plants (when used as directed), with an immediate re-entry time after the spray has settled, making it ideal for any outdoor area. The proprietary formula has no offensive odor and provides protection from pests for 14-28 days.
Mirimichi Green Pest Control's effectiveness was tested by standards set by the World Health Organization. The efficacy test revealed an 80+ percent kill rate for pests and larvae in a 24 hour period. Try using this safe pest control for: parks & recreation areas, campground sites, sports fields, golf courses, universities, outdoor venues, landscaping, gardens, and more.
Not sure which bug is eating your plants and lawn? Our list of common lawn pests with pictures will help you figure it out!
Mirimichi Green Pest Control Analysis: 0-0-0
Mirimichi Pest Control should be applied using a backpack sprayer or fogger.
Label: Mirimichi Green Pest Control Product Label
Application: Spray Bottle, Battery-powered 4 gallon sprayer with TeeJet foliar spray tip, Mist Blower, Misting System, Sprinkler Injection Pump recommended.
For extended coverage and increased application options, we recommend using Mirimichi Pest control in conjunction with a fogger.
When to Apply: Every 3 - 4 weeks.
Where to Apply: Lawns, Ornamentals, Patios, Building Exteriors.
Product is safe for warm and cool season lawns.
Coverage:
1 gallon covers up to 120,000 sq. ft.
2.5 gallons covers up to 300,000 sq. ft.
Application Rates:
Mix 4 -8 oz. of Mirimichi Pest Control with 1 gallon of water.
Does Mirimichi Pest Control need to be watered in?
No. Mirimichi Pest Control works via contact. It leaves a light residue on the sprayed surface that controls insects
Can I apply granular fertilizer or Essential-G on the same day as Mirimichi Pest Control?
Yes. We recommend that granular fertilizer and Essential-G be applied before Mirimichi Pest Control.
Can I apply other liquids and Mirimichi Pest Control on the same day?
Can I apply Mirimichi Pest Control indoors?
We don't recommend it. While the product is non-toxic, it can leave a light residue that could potentially be a slipping hazard. Spraying unoccupied areas like crawl spaces would be ok.
Can I apply Mirimichi Pest Control on or around edible fruits and vegetables?
No, we do not advise using this on anything edible due to certain oils in the formula.
What kinds of bugs does this kill?
Mosquitos, ants, roaches, chiggers, spiders, mites, aphids, whiteflies, fleas, spiders, Japanese beetles, chinch bugs, flies, and more.
PRICE INCLUDES SHIPPING
Shipping: United States Only.
Currently NOT shipping to:(AK,HI). For AZ, CA, CO, WA, OR, ID, MT, NV, NM, UT just a small shipping charge of $9.95/ea will be applied to 2.5 gallon sizes. A $5.00 shipping charge applies to other sizes.
We can not ship to PO Boxes
Typically delivered in 4 - 7 business days.
Cancellations | Returns | Exchanges: All sales are final, no cancellations, returns, or exchanges